Are you all set to begin making decorative tassels?
You know it's really fun, don't you? I'm sure I've given you
fair warning
more then once, so please, please don't blame me if you become yet another statistic
in the annals of tassel making addiction!
I've only made
one other tutorial
, so please let me know if I am unclear,
or need to add something to make it easier for you!
You've already seen my crazy work space, now you're going to know what
I'm doing with all this stuff to make various tassels!
I started out with some bits of fringe that didn't work out from other projects,
and some leftover trims from past home decor sewing.
Now, I have 'tassels on the brain' and am always on the lookout for interesting trims and luxurious ribbons to make more.
They can be really expensive, but thankfully, you don't need much.
Let's get started!
First off, we need to

assemble the cast of characters
:
~ ribbons - various widths
~ fringe, pom poms, eyelash fringe - high grade upholstery trims if you can find them
~ wooden finials, candle cups, decorative birds or whatever suits your style
~ spray paint or craft paint and spray polyurethane
~ screw eyelet - small size, but not cheap-o since they will just break off
~ needle nose pliers, perhaps a hand saw
~ nice sharp scissors
~ your trusty hot glue gun and lots of glue sticks

Center an eyelet screw in the top of your wooden finial, or your decorative item and screw it in. If your fingers are weak, like mine, use the needle nose pliers - it really helps.
Alternatively, you could drill a small hole and use glue to attach a ribbon
or pull chain for a ceiling fan.
Hot glue might not hold up as well as a Liquid Nails type product in that case.




Try to match the size of your screw eyelet to the size of the finial you are using.
I think it should be small and unobtrusive, but heavy duty enough to hold.



Paint it up pretty - whatever suits you best.
Black spray paint seems to be really popular around blog land!



These wooden dowel end caps work well too - just cut (toolbox handsaw) a dowel that fits into 2" lengths and glue in place. You'll want to paint this up pretty too, naturally.
Now it's time to attach a pretty ribbon - slip it through the eyelet and tie neatly.
Fire up your hot glue gun because you are going to need it next!
Start by sorting your decorative trims and fringes by length.
Not the yardage length you have, but the 'hanging length' which is typically
marked as 'width' on the trim bolts - I know, it's confusing.
Choose your longest fringe first, or if you like, just use 3-5" lengths of ribbon
- a variety is quite nice.
Begin by hot gluing your first ( longest) trim selection around the base of the finial,
dowel or decorative bird.
You can wrap it around as often as you like, but don't go overboard - this is just the first layer and won't be as noticeable as the subsequent layers.
Ribbon time! - just a dot of hot glue holds on your favorite ribbons!
You didn't burn yourself, did you? I hope not!
Add another layer of fringe here - your medium length choice - hot glue it on!
I really like the eyelash types,
but anything you like will be just fine!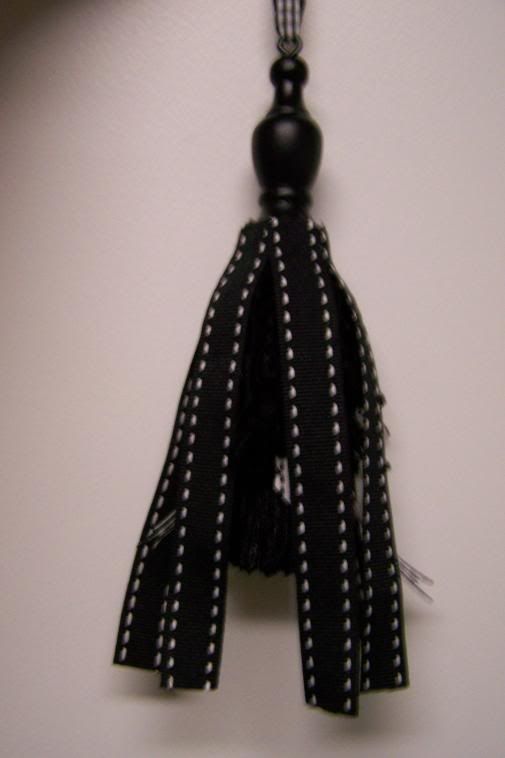 Do you like loops??? Me too!
Cut 5-7 ( depending on the width of the ribbon and the diameter of the finial) pieces of ribbon - all the same length and glue the right side to the trim on the finial. When that glue is set, add another drop in the center of each ribbon.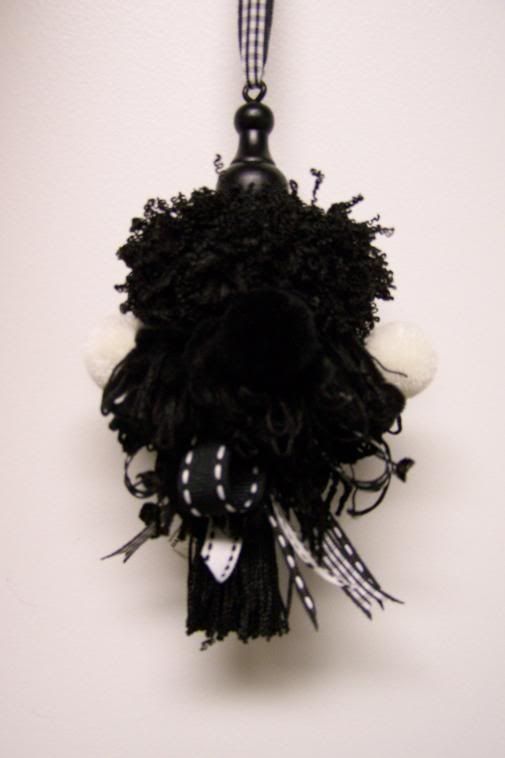 Continue to add rows of shorter fringe, ribbons or pom poms!
Make it to suit your taste and use what you have on hand.
If you are not sure about something, hold it up and take a look - if it's pleasing, glue it on!
Stop when you get to the place you want to stop - just leave a bit of finial showing at the top!
You're done - you've made your first 'instructions by Heather' tassel!!
Wasn't that fun???
Do you want to make some more?
Well, do you?
Let's try one that starts out in life as a simple candle cup next.
You don't think a candle cup can be pretty? Trust me on this, o.k.?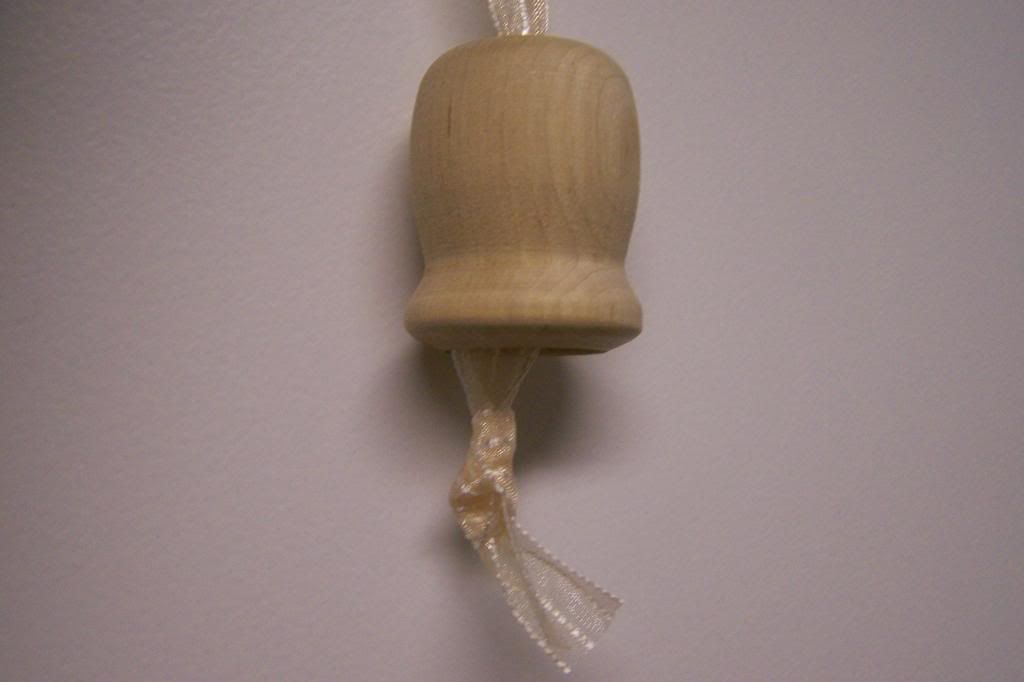 First - turn that candle up upside down. Do you see a hole? If you don't, use a drill and make one smack dab in the middle, but all of the ones I have purchased have had a hole already.
Cut a 10-12" piece of pretty ribbon. I like to put the ends together, roll them up tightly and stuff them from the top down into the little hole, but however you do it, get it in there.
If it won't come all the way through for you, those needle nose pliers are handy
- just grab the ribbon and pull it gently through.
Now tie a knot and put a dab of hot glue on it - pull the knot back up into
the candle cup as far as the hole and let the glue set.

We're still starting with our longest fringe -and if you want to add some ribbons here, that would be pretty to! Beginning at one end, roll the fringe tightly - gluing as you go!
Please, please, please, don't burn your fingers here!


Make it just big enough to fit in your candle cup and cut away any excess.

Rim the cup with hot glue and place the top of fringe roll just inside,
so the fringe can move freely below the cup. Allow it to set.
Now, start adding your layers. Rows and rows of ribbons, fringes and trims!
This birdy tassel started life as a candle cup - really! I just put a wee hole in the nest, threaded the ribbon tie through and glued it all down!
This chocolate and blue tassel is also made using a candle cup!
You never would have guessed, right?
Have fun with it and before long, you'll be the proud maker of your second
'instructions by Heather' tassel!!
There are so many places on the web to go for tassel inspiration -
I'm quite sure your tassels will be fabulous!
Will you please let me know if you make a tassel?
Post a picture on your blog and come back here to tell me,
so I can come and see what you accomplished!
Thank you!